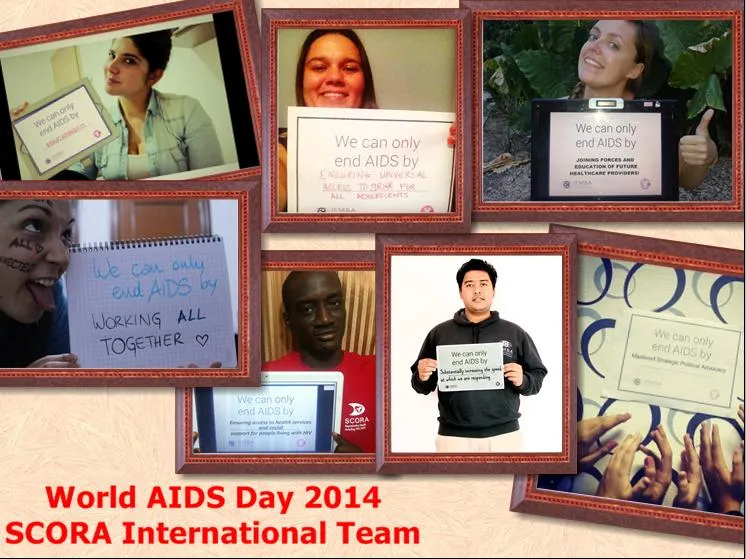 Beloved SCORAngels!
Today is 1st December and we are commemorating World AIDS Day! This is the daywhen we are not only celebrating of what has been done to end HIV pandemic, but we are also raising awareness about the things and issues that still needs our actions.
UNAIDS has launched fast-track targets that would need to be reached by 2020 include achieving 90-90-90: 90% of people living with HIV knowing their HIV status; 90% of people who know their HIV-positive status on treatment; and 90% of people on treatment with suppressed viral loads.
UNAIDS estimates that by June 2014, some 13.6 million people had access to antiretroviral therapy, a huge step towards ensuring that 15 million people have access by 2015, but still a long way off the 90-90-90 targets. Particular efforts are needed to close the treatment gap for children.
Other targets include reducing the annual number of new HIV infections by more than 75%, to 500 000 in 2020, and achieving zero discrimination. The targets are firmly based on an approach to leaving no one behind that is grounded in human rights and, if achieved, would significantly improve global health outcomes.
After fruitful cooperation for Candlelight Memorial Day this year IFMSA has joined forces with Y+; Global Network of Young People living with HIV. This year we are advocating for adolescents whose access to proper healthcare is still being neglected. It is the only population where HIV infection rates are going up. This is the key to end epidemic! Medical students all around the world were writing their statements and contributions to end AIDS. As young medical students and future doctors we are obliged to end stigma and discrimination of people living with HIV/AIDS. Our future offices and hospitals have to be a safe place where we are providing healthcare regardless of status.
We have the power in our hands to really be witnesses and advocates to Get to ZERO!. A real zero of new infections, zero deaths of AIDS related illness and zero discrimination!
I am so proud that so many of you have joined our campaign! You are all doing a remarkable job of educating, campaigning and advocating for people living with HIV/AIDS! It is a great feeling that today all SCORAngels are wearing their red ribbons proudly and are standing together united. Keep on doing the great work! That we will see each year medical students who care! I feel that together we are making a real difference and WE have the future in our hands.
The future of AIDS-free generation!
On behalf of SCORA International Team
Yours SCORAliciously,
Michalina A. Drejza
Director on Sexual and Reproductive Health including HIV/AIDS