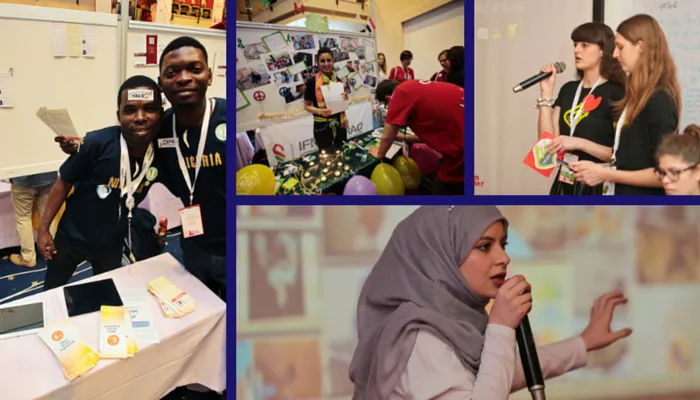 A place where medical students show impact they make
In March 2015 in Turkey IFMSA members gathered for the March Meeting General Assembly, where over 900 medical students from all over the world met in Antalya to showcase their activities, achievements and ideas. Through several opportunities to present and exhibit Project Support Division enabled this exchange of good practices our members do in their communities. Participating in Activities Fair and Rex Crossly Awards' presentations enabled them to promote and share the impact they make in their communities, locally, nationally and even internationally.
There one could see projects about prevention against sexual transmitted diseases or about awareness for World Heart Day. Medical students who were coordinating those projects have spoken with passion about how they do impact outreach in communities, influence national health policies, bring innovative change in their medical curricula or stand up for human rights of vulnerable groups. In the crowd, many students who were not presenting came to learn about projects done on the other side of the world, get inspired and start a new project back home. It is an arena of exchange of good practices, successes where student from Indonesia might help a student from Spain to improve its project, develop it, or start a new collaboration that will last for years.
Rex Crossly Award and Activities Fair
Rex Crossly Award and Activities Fair have been organized by IFMSA Project Support Division in IFMSA General Assemblies. They give credit to community changing initiatives led by medical students worldwide that make a relevant impact in their community.
Rex Crossley Award is an biannual award given to three exemplary activities done by NMOs in local and/or national level. After rigorous assessment the best 14 projects get opportunity to present their achievements to 1000 medical students and get published in the Medical Student International, an IFMSA biannual publication while the best three are given the Award in the last Plenary of the General Assembly. The Award is named by Rex Crossley, one of the founders and the first president of IFMSA.
Activities Fair is an IFMSA well known event where every of the approximately 100 presenters brings posters, leaflets, brochures, stickers and any other kind of promotional material about his activity to show to all the participants of the General Assembly. This provides an opportunity to showcase impact of an activity to other motivated IFMSA members as well as to get feedback, improvement suggestions and new collaboration opportunities.
This General Assembly we have had the honor to give Rex Crossly Awards to following projects:
1st Place: Community Health Clubs in rural Burkina Faso by AEM Burkina Faso
2nd Place: Anti-Sexual Harassment by IFMSA-Egypt
3rd Place: Voice of Hands by TurkMSIC Turkey
The best activities presented in the Activities Fair were:
1st Place: Standing Committee on Peer Education and Training  by MMSA-Malta
2nd Place: UN4U "Post MDGs and Health Beyond 2015: ARE YOU IN?" by CIMSA-ISMKI Indonesia
3rd Place: Sudan Tropical Exchange Project (STEP) by MedSIN-Sudan
About winning projects
Community Health clubs in rural Burkina Faso by AEM Burkina Faso
AEM Burkina Faso with its medical students members creates community health clubs using a special curriculum in rural Burkina Faso. The community health clubs are voluntary organizations that provide a forum for learning, problem solving and discussion on proper hygiene and sanitation in community aiming to decrease the incidence of preventable diseases. Using peer pressure and social solidarity, it achieves sustainable behavior change led by the community itself.
Anti-Sexual Harassment by IFMSA-Egypt
As one of the major issues in Egypt, sexual harassment and violation of women's and children's rights has been proven to be preventable in a tangible manner over the past years. On such note, IFMSA-Egypt has put forward the initiative to include health workers and future physicians into the equation of what aspires to become a long-term intervention. In collaboration with UN agencies, medical students organize campaigns and build capacities while stretching the boundaries to social integrity in the Middle East's demography.
Voice of Hands by TurkMSIC Turkey
Voice of Hands equips medical students with skills that will ensure a better health care service for hearing impaired citizens. Organizing numerous capacity building events and creating learning materials on sign language, these medical students are taking the lead in ensuring equitable access to health in Turkey. With aim of sign language to be provided as part of medical curricula in all medical schools, TurkMSIC members are campaigning with Turkish Ministry Of Education as well. By doing this, they improve the quality of medical education and service future doctors will be giving to their patients.
Standing Committee on Peer Education and Training by MMSA-Malta
MMSA promotes the use of peer education for school students (3-18 years old) on topics related to healthy diet and eating disorders, anti bullying, reproductive cancers, human rights, sun protection. A project developed in several years and provides training for medical students as well on these topics, ensuring the quality of sessions given to the school students while being supported by several institutions.
UN4U Post MDGs and Health Beyond 2015: Are you in? by CIMSA-ISMKI Indonesia
UN4U was a project mandated by WHO Indonesia to CIMSA. The event, held in October 2014, was attended by 160 participants from the 5 faculties. It focused on  group discussions about triggers associated with the post-MDGs by creating concept maps or by summarizing their results on posters, which were presented after the discussions. Furthermore, participants have been provided with materials on post-MDGs.
Sudan Tropical Exchange Project (STEP) by MedSIN-Sudan
STEP is an internship focusing on tropical diseases in Sudan. The program consists of a scientific part, including a medical mission to a rural area and unique cultural program. A total of 25 students from all over the world get opportunity to spend one month Khartoum, Sudan and experience health and social challenges of rural Sudan.
For more information about projects contact [email protected]
Project Support Division
Ann-Kathrin Asen (bvmd Germany) and Marjon Feenstra (IFMSA-Netherlands)