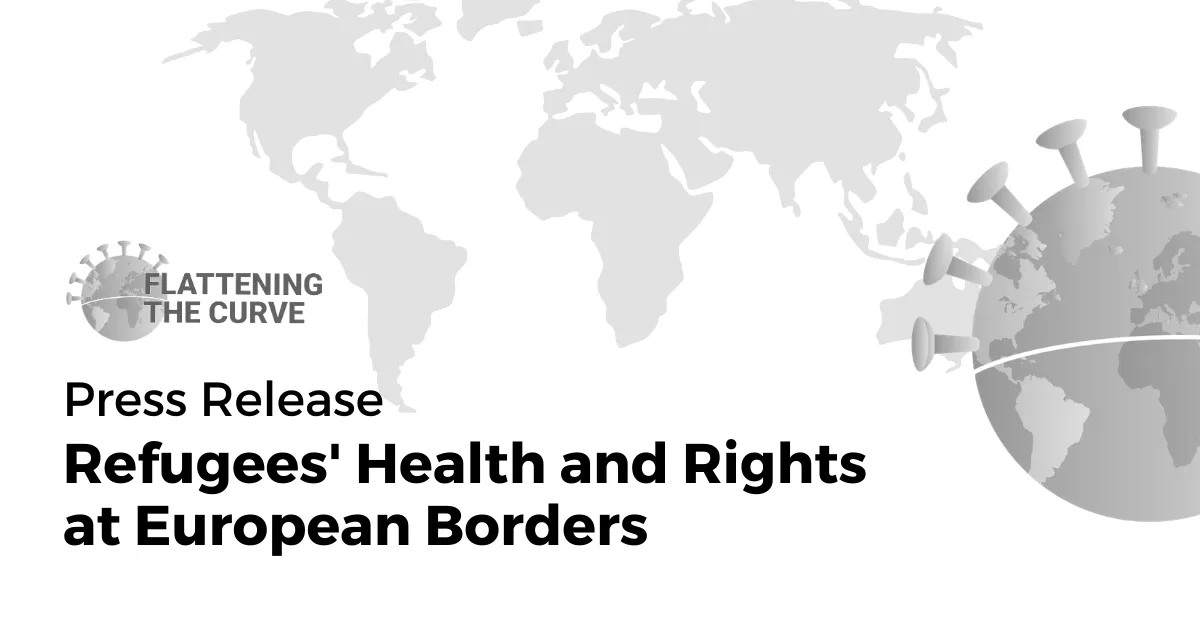 Ninety-six refugee hosting countries, according to the UNHCR, have reported local transmission of COVID-19 [1]. The COVID-19 pandemic endangers many refugees around the world, who instead of staying at home, are forced to flee their homes. European borders have been one of the hot-spots of refugees and asylum seekers migration and the increased overflow predisposes to various inequalities, like poverty and violence in refugee camps. However, with the crisis we are currently facing these issues have only been underpinned and aggravated during the current pandemic, making this situation even more unsustainable.
The refugee camps are facing inhospitable conditions: overcrowding, poor hygiene, scarce drinkable water, lack of food, and extreme violence, amongst others. The situation in Greece, a country that is hosting a vast amount of refugees and migrants due to its geographical position, has become extremely tense. In the Greek island of Lesbos, the Moria Refugee Camp, which currently hosts 20.000 refugees instead of the 3.000 that it was designed for, is at a breaking point and it has become a place of violence, deprivation, suffering and despair [3]. Adding to that, there is a serious lack of sanitation, insufficient water taps with running water or soap, making the WHO recommended measures of social distancing and WASH (Water, Sanitation & Hygiene) measures challenging to comply with. [5]
Although positive cases have been reported among the citizens in Lesbos, there has not been declared COVID-19 cases in refugee camps, which could be due to the lack of reporting and surveillance in these settings. However, should the virus spread among the refugees, they would be facing yet another serious problem due to the limitations of access to comprehensive healthcare services. A severe lack of healthcare personnel and resources in the make-shift clinics in the camps have been reported throughout the years, with overburdened hospitals unable to treat refugees with non-communicable disease. Health emergencies were already hard before on refugees and on the situation in the camps; now, during this pandemic, there is a clear and imminent danger of too many people getting infected without being able to be treated properly or undergo the necessary quarantine measures. This would make it extremely hard to contain any outbreak in a camp. [2][4]
Moreover, the lockdown of camps and the fear of the virus spreading amongst the people living there, is a risk situation where various forms of conflicts and violence easily increase, further adding to the instability and insecurity.
The aforementioned situation in Moria – serving as an example for refugee camps across Europe – is highly alarming and strongly contradicts the fundamental human rights, which should be universally protected.
The International Federation of Medical Students' Associations (IFMSA) believes in the right of all individuals, especially vulnerable groups including refugees, to a dignified life respecting their humanity and basic rights as well as protecting their emotional and social well-being.
Therefore, the IFMSA calls on the different stakeholders to respect the right to life and the right to health of refugees, asylum-seekers and the stateless, without any discrimination. We call on governments to provide access to comprehensive healthcare services including, but not limited to: affordable and equitable access to medicines, medical supplies, vaccines, diagnostics, preventive services and sexual and reproductive health care.
Governments need to develop and implement specific strategies to enhance their capacity to: analyze risks, monitor deteriorating conditions, and respond proactively to humanitarian crises in the pandemic and beyond. In addition, every country hosting asylum-seekers should ensure their inclusion and the camps settings into their preventive strategies for the pandemic, including sufficient access to information, sanitation, health, and ensuring a concrete emergency plan to protect and treat people living there in case of an outbreak.
Lastly, we call on adopting a human rights-based approach to addressing refugees' critical situation and the resettlement process, to ensure that rights of individuals are respected and that no one is left behind.
References: