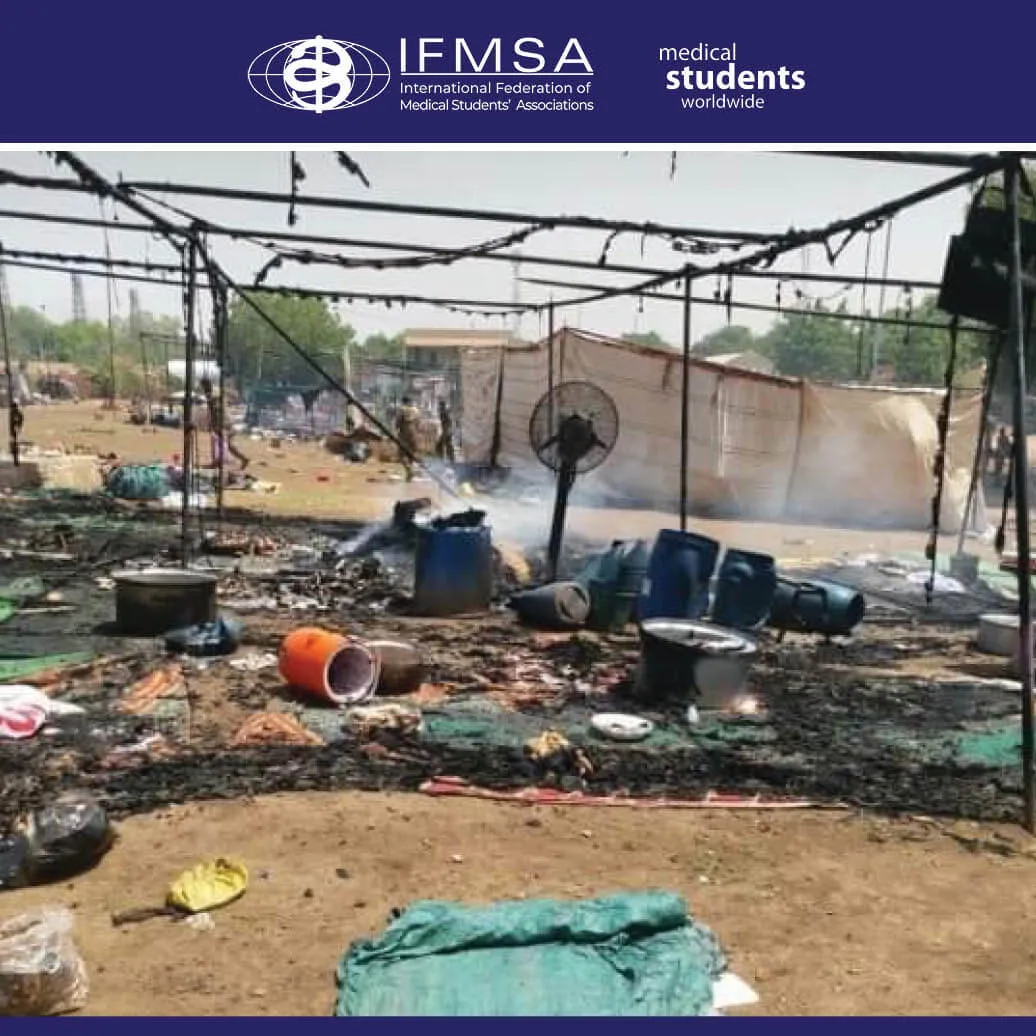 The situation in Sudan has worsened over the last few days severely, rendering the safety of civilians and healthcare professionals at risk. Over and above, the basic sanctions of human rights have seen countless violations. The International Federation of Medical Students' Associations cannot stand by silent at the atrocities witnessed and stands in alliance with the safety of its member, MEDSIN-Sudan.
The rules of war are governed by the International Humanitarian Law, which according to rule 25, prohibits any attacks on identified medical personnel. Despite this being a part of the Geneva Conventions, we continue to see violations.

In our globalized world, healthcare professionals cannot be considered fully prepared without acquiring Global Health Education. Global Health is defined as an area of study, research and practice that places a priority on improving health and achieving equity in health for all people worldwide. One of the best ways to do it is to take part in a professional or research exchange. Because of the current situation in Sudan, medical students there are deprived of the opportunity to become active members of a global community that nurtures future healthcare professionals. Furthermore, IFMSA finds it is unable to allow students from other countries to attend either type of exchange in Sudan, as their basic human rights to health and life could be endangered.

Since the very beginning the conflict, doctors have been at the forefront of the Sudanese revolution, making them a target of orchestrated arrests, physical abuse and harassment. Nevertheless, they have continued to fearlessly perform their duties to the fullest extent. During the violent dispersal of the sit-in on June 3rd, the doctors among protestors were also subject to murder, beating, harassment as well as sexual assault.

Rapid Support forces prevented the transportation of wounded and dead bodies to hospitals leaving many to die and many bodies to never be recovered as they were either burned, dumped in mass graves or the river Nile.

The internet shutdown has disturbed access to healthcare greatly, as many hospitals were shut down, preventing people from knowing where the nearest hospitals are and the safest routes to reach them. The sick are not able to access essential and life-saving medication due to shortages in hospitals and pharmacies as well as the lack of safety in the streets.

The International Federation of Medical Students' Associations strongly condemns attacks against civilians, medical personnel and facilities in addition to attacks against health education and violations of international humanitarian law. The Federation would like to call on all parties with no exception, beginning with medical students and reaching governments and intergovernmental organizations to secure the safety of health care personnel, vehicles and facilities in order to protect the access to healthcare. In addition, they need to recognize that a violence against the health sector is a crime under IHL, and adopt all the necessary measures to stop all actions leading to adverse outcomes for the health of Sudanese people. The Federation would also like to call on all parties to respect and act in accordance to IHL and International Human Rights Law. Last but not least we would like to highlight the occurrence of violence and share with the international network that regardless of violence, we will never forfeit demanding accountability.