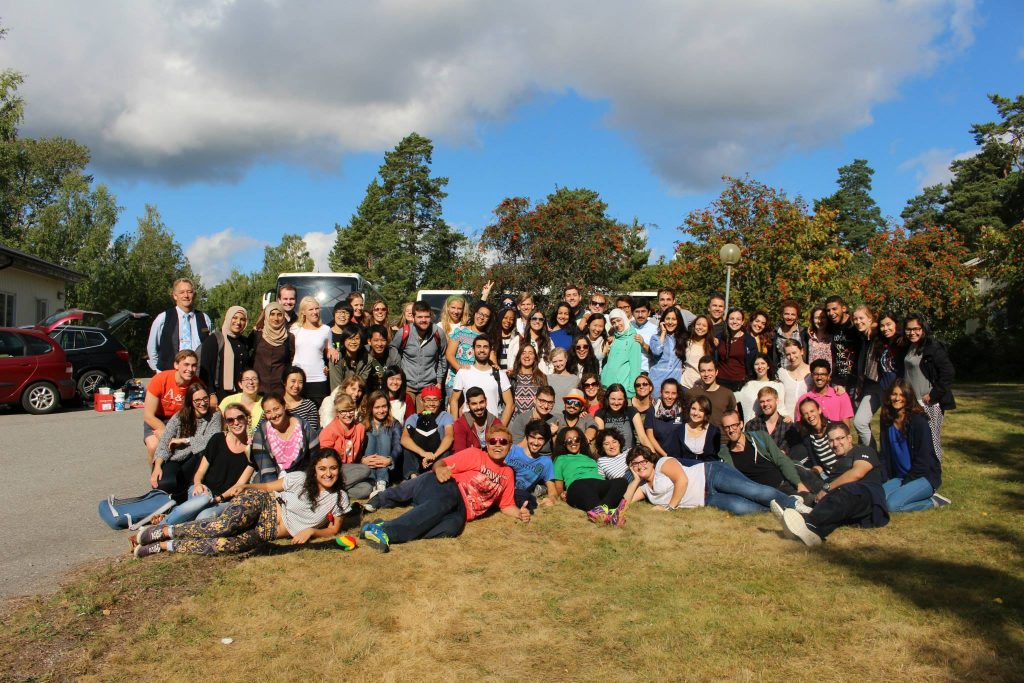 There is something alluring about a place that knows no darkness. A place where the days are long and warm, and the nights calm and tranquil. It's hard to imagine a better place to spend the end of August and I am happy to have had the amazing opportunity to attend SCORP Camp in the beautiful city of Stockholm, Sweden.
SCORP Camp is the IFMSA's largest international summer school on Human Rights and Peace, with 80 delegates taking part from countries as diverse and far flung as Iran, Mexico, UK, Egypt and Taiwan, China, to name just a few. SCORP Camp-Sweden (Aug 23rd- 28th 2015) was the 3rd edition of the event with the previous editions hosted in Jordan and Slovakia respectively.
This year's theme was Access to Healthcare with sessions, panel discussions and trainings exploring the fundamental human right to health, which is particularly relevant to me, given the current European Migrant Crisis and the many undocumented persons who are being denied access to fundamental health care services due to their legal status. There were four parallel trainings conducted during SCORP camp this year:
Training New Trainers (TNT)
Training New Human Rights Trainers (TNHRT)
International Peer Education Training (IPET)
Human Rights Training for Medical Practitioners: Advanced Training in Human Rights and Ethical Principals in Clinical Settings.
Because I am active in the Peer Education and Training Standing Committee in Malta, I chose to do TNT. As this was my first ever IFMSA event I wasn't sure what to expect when I arrived for SCORP Camp registration in Stockholm at the Karolinska Institute, one of the foremost Medical Universities in the world and where the Nobel Prize for Physiology and Medicine is chosen.
However I was immediately greeted by members of the Swedish organizing committee and made instantly to feel at home. We were introduced to the other delegates and I was astounded to meet so many people from so many different countries, I had never been in a room like this before!
On the evening of the first day, we departed to Barnens (Children's island), a 2000 acre camp site surrounded on both sides by water. The site was breathtakingly beautiful and completely secluded, a million miles away from the hustle and bustle in London. At Barnens SCORP Camp really started. We enjoyed traditional Swedish themesittning (a formal dinner with singing, games and performances), as well starting our trainings. During the day, we'd split into our training groups for sessions and workshop and got together again in the evenings for activities such as Brnnboll (a high octane ball game), swimming in the lake, talks from current students and junior doctors on Human Rights and of course the famous National Food and Drinks Party! In addition to all of this, we also had an afternoon excursion back to Stockholm where we were able to see the Royal Palace, canal, Old City and Nobel Museum.
What struck me most during my time at SCORP Camp was how amazing it was to see so many people from different parts of the world all with the same drive and motivation to see human rights upheld in every corner of the world. Despite our perceived outward differences, when it comes to advocating and defending access to health care and the right to health we all spoke the same language.
My training program, TNT, was the most fun yet intense training I've ever done. Learning how to become a trainer means learning what it is to be in a group, including the dynamics and conflicts which can arise. Every exercise challenged us both mentally and emotionally, I discovered things about myself I never knew and built upon my communication, advocacy, facilitation and leadership skills.
By the time SCORP Camp was drawing to a close, I was really sad to leave but also eager to go back home. Why? I had learnt so much from my training, met so many incredible people and most importantly, learnt so much about myself through the exercises and activities we had done, that I now felt that my horizons were broader and the glass ceiling on what I could achieve as a medical student had been removed.
I came to SCORP Camp knowing nothing about IFMSA but after those 5 life changing days in Sweden, I can say confidently that not only am I now a SCORPion, I am also a confident trainer. In Malta, Ive begun delivering training sessions and will be coordinating our national World Human Rights Day events. I also definitely want to continue attending IFMSA events and help make the world as harmonious as the 80 of us who came together in Sweden.
For more pictures of the event, SCORP Camp – Sweden 2015& visitwww.scorpcamp.se.
Entry written by Ugonna Nwankpa, from United Kingdom, 2nd year Medical Student in Malta, participant during SCORP Camp 2015