Every 14th of June, the world celebrates blood donor day, knowing its lifesaving potential in different fields, from emergency and disaster medicine, to maternal and childbirth complications, NCDs and cancers, as well as complications due to Communicable diseases and other fields. This is why IFMSA has decided for the first time to lunch an international campaign on blood donation named '' Give a life, Give a drop'' to provide medical students with appropriate knowledge and skills to enable them to take action on promoting blood donation in their communities.
The campaign started the 27th of May, with several infographics that showed the need and importance of blood donation, its advantages and benefits for donors and for the community, its procedure, and how to act to promote it. The four infographics were published in four languages ( ENG, FR, AR, SP) in order to reach most of communities in the world.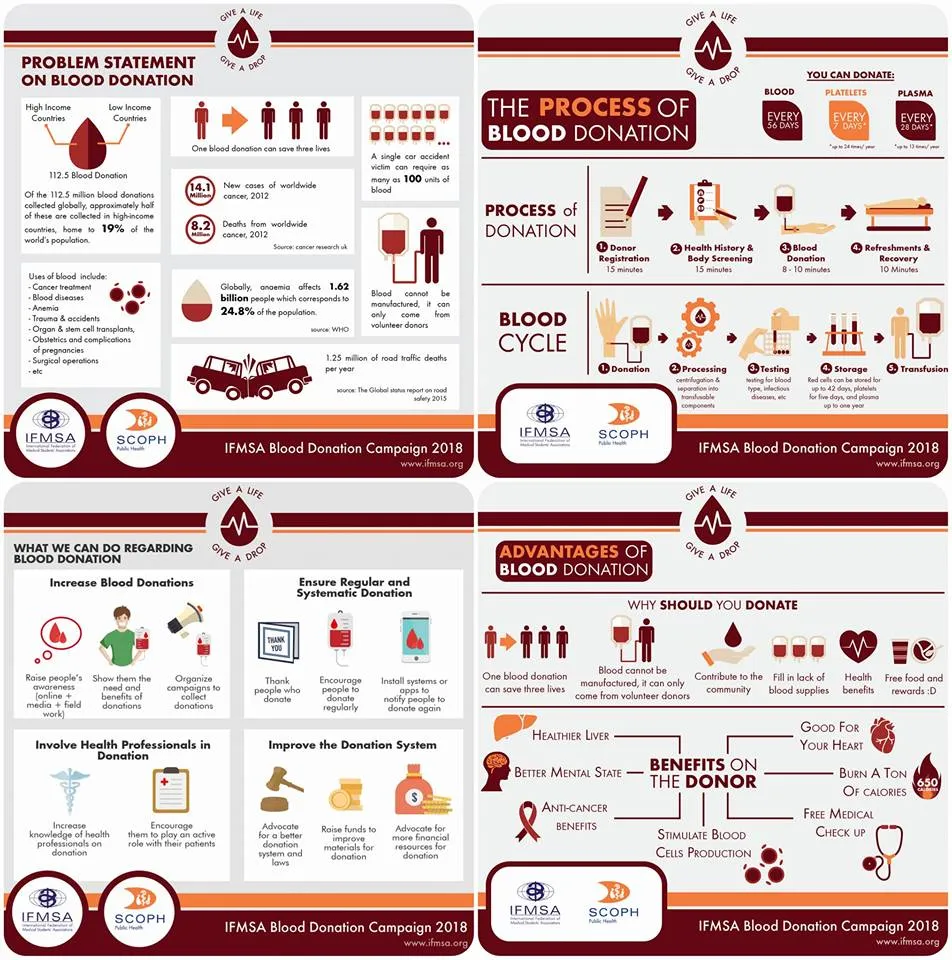 The campaign also contained a short Quiz on blood donation, to evaluate and improve medical students' knowledge about it. The quiz reached 1365 answers from 100 NMOs
Another important element of the blood donation campaign was the survey on the situation of blood donation in different countries of the world. Based on the answers received, a world map was made showing results from 56 countries.
As part of the campaign, students had the chance to change their Facebook profile pictures using a frame designed by IFMSA to raise awareness and spread the message all over social media.
The campaign ended the 19th of June with a webinar on the topic that tackled public health aspects of blood donation, major challenges and sociocultural barriers facing it, and how can we as health promoters act about it.
It is important to note that this year, 54 NMOs enrolled and reported their activities on blood, marrow and organ donation, from which 28 NMOs collected 67066 blood donations, 32 NMOs worked on educational activities, including conferences, workshops and lectures, reaching 156683 persons educated. This shows the great impact our federation and its members are achieving on blood donation, which we highly appreciate and encourage and hope that our members will keep acting positively on blood donation and continuing to save more lives.
In the end, and as I always say: life is like a Wi-Fi hotspot, it was meant to be shared with others. That is the basic principle of donation, to share your life connection with others and save their lives. So let us all keep sharing, and keep donating.