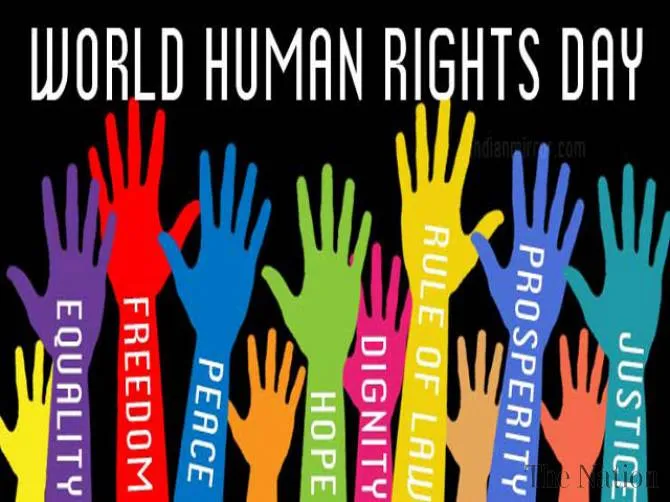 The Human Rights are an intrinsic part of our?daily existence. They are the principles that?are keeping us alive and in the future?they will be our purpose when we?start to work as doctors. However?there isnt a single day that passes?in which we dont take them for?granted and unfortunately we dont?realize how privileged we are?compared to the majority of the?worlds population: 21 million are?modern day slaves [1], 783 million people?do not have access to clean water [2],?almost 2.5 billion do not have?access to adequate sanitation [3], an?estimated 10 million are stateless [4]?and 22,200 children under 5 years?die each day due to poverty [5]. The?list of underprivileged people is?never-ending and the net effect?is always to decrease the quality?of life and increase the amount?of global health problems.
Often the cause of these problems?is the belief that human life can?be sacrificed for the upholding of an?ideal. Conflicts occur because?people are obstinate or narrow?minded, unable to co-exist with?someone who appears physically?differently or behaves culturally different?to the majority, or because they use a belief?as an excuse to exploit others or dominate?others based on political ideologies,?cultural beliefs, religion, gender and?gender identity, orientation, race or?ability.
As IFMSA we believe that a medical student is not training to become any doctor, but that he or she is training to become a good doctor. A good doctor treats their patient with respect and dignity. The level of care for the patient will not be affected by who they are. A human being will always remain a human being in whatever?circumstance and the diversity of the human race just helps break the monotony of our profession. If we lose this value then we lose the very reason we are enrolled in the course.
By adopting the Universal Declaration of Human Rights (UDHR), the international community has taken on itself to ensure that all human beings are born free and equal in dignity and rights. They are endowed with reason and conscience and should act towards one another in a spirit of brotherhood, and today after more than six decades we IFMSA members want to express that we reaffirm and repeat our commitment to promoting, protecting and insuring its fundamental principles and values being acted upon through our actions and education worldwide.
Turning this vision into a reality requires both the persistent protection of such rights, increasing the awareness that they are fundamentally ours and giving space for active participation as global citizens. Setting aside a day to commemorate, educate and reflect on the principles that form the UDHR means celebrating the rights we exercise everyday as human beings, and acknowledging that enjoying those rights carries with it the responsibility of promoting these rights for all people.
For the past 31 years our Standing Committee on Human Rights and Peace does not just celebrate this event but it acts upon the principles that?lead to the creation of the UDHR?throughout the entire year.?Our actions depend?on the target groups but whatever the project?organised we are directly or indirectly contributing?to the reinforcement of the UDHR in the?community. On this special day I invite members?worldwide to join in our efforts to promote?the UDHR and to continue working on SCORP?projects throughout the year (as highlighted also in the UN's 2014 theme: Human Rights 365 [6]). The World Human?Rights Day League of Extraordinary SCORPions?has created this manual as an easy to use tool?to guide you in activities that can be organized at?the local and national level to commemorate this?special day [7].
Matthew Valentino
Director of the Standing Committee on Human Rights and Peace (SCORP)
References:
1.?http://www.ilo.org/global/about-the-ilo/newsroom/news/WCMS_181961/lang?en/index.htm
2., 3.?http://www.unwater.org/water-cooperation-2013/water-cooperation/facts-and-figures/en/
4.?http://www.unhcr.org/pages/49c3646c155.html?
5. State of the Worlds Children, 2010 PDF formatted document, UNICEF, p.18-19.
6.?http://www.un.org/en/events/humanrightsday/
7.?http://issuu.com/ifmsa/docs/2014-15_whrd_manual2