[Call for Interns][DL:10/07] WFME-WMA-IFMSA internship program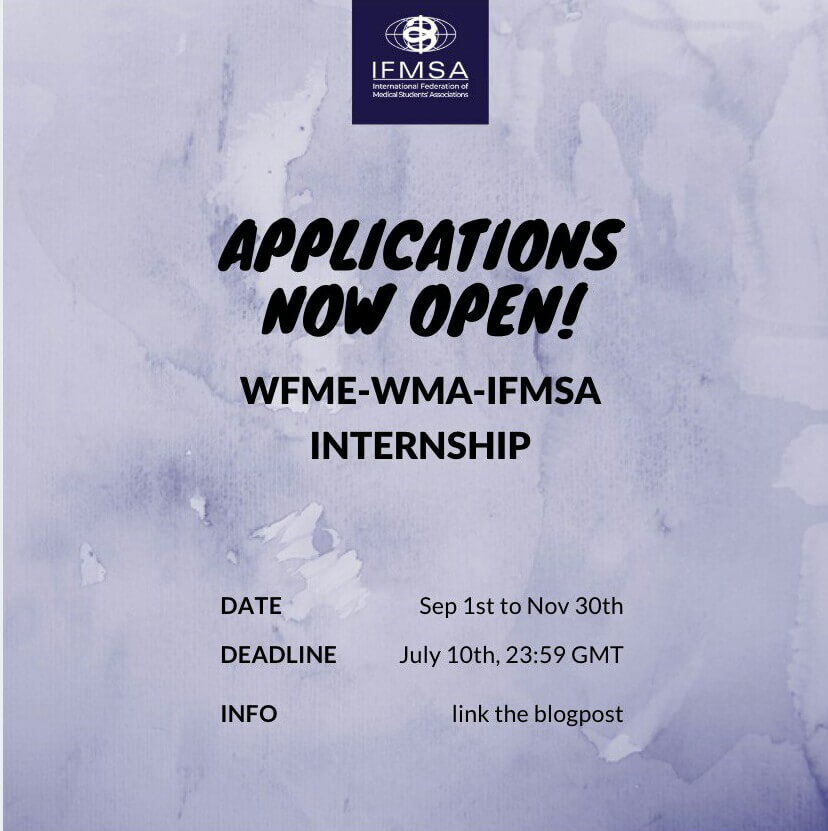 Dear members,
We are pleased to invite you to become an intern at the World Federation for Medical Education (WFME), as part of the WFME-WMA-IFMSA internship program.  
Where? Interns will work at the headquarters of the World Federation for Medical Education, in Ferney-Voltaire, France (20 minutes from Geneva, Switzerland).
When? Participants will work for a period of 3 months, from September 1st to November 30th. This internship is offered on a one-time basis. 
What is provided for the chosen intern?
The WFME will provide all interns with:
800EUR monthly stipend
Free airplane transportation from the intern's country of origin to Ferney-Voltaire, up to 750EUR
Interns will be responsible for all other expenses (accommodation, food, additional transportation fees), and are encouraged to find other sources of funding.
Key skills and attributes for the interns
Commitment to enhancing the quality of information around medical education programmes 
Knowledge and familiarity with the use of databases and excel. 
Ability to work independently
Comfortable working with people from different countries 
Oral and written communication skills 
Working knowledge of English and at least one other language
We expect all interns to be committed, well-organised and hard-working, which includes being available and present at the WFME office during the intern period. Any absences have to be arranged with the WFME supervisor.
This internship is opened for a medical student to join the WFME office for a 3 month period and work on a project titled "Broadening Medical Education Capacity by Including Regional and District (local) Hospitals: A step towards Universal Health Coverage".
Background
A constant limitation in the provision of new medical personnel is the capacity for structured quality medical education. In many countries, clinical education in its basic parts and often also during specialisation is bound to medical schools. This project aims to show that a meaningful and planned inclusion of regional or district hospitals or both, can help to broaden the capacity for clinical medical education. The proposal is based on existing experiences and aims to collect more examples of regionalisation of Medical Education.
Bringing medical education to such hospitals could provide a number of benefits to countries, patients, universities and participating hospitals as well as their staff:
Increasing the number of physicians – Broadening the base for clinical education will allow education of a higher number of physicians at the same time, because clinical training capacities are usually very limited in universities and medical schools and their own immediately affiliated hospitals. (It must be acknowledged that the inclusion of external clinical facilities does not increase the capacity for the non-clinical education part.)
Fostering retention – Physicians often choose their later working place based on their local experience during basic medical education and specialisation. It often allows them to find a working place in an environment they know, are networked with and feel comfortable in.
Increasing Relevance – University hospitals are often high-end facilities concerned with more difficult and complicated cases. They do not necessarily reflect the health and illness realities in primary and secondary health settings. Regional and district hospitals can expose the learners to more "normal" scenarios of health care, public health, and community needs.
Improving quality and reputation – Local facilities can profit from taking educational charges by developing their academic profile, increasing quality development, and clinical standards and by showcasing their educational engagement to their communities. They may also find recruitment opportunities with their students. Such efforts would at the same time serve the provision of quality treatment to their patients.
On the other hand, medical education requires a strong academic component and must not be detached from Universities and medical schools. This would require strong cooperation of academic centres with regional clinical facilities even in remote parts of their respective countries.
To ensure an academic curriculum and to maintain and develop quality standards that are necessary for a meaningful and safe medical education, certain conditions have to be fulfilled. All of those will add to the quality and safety of the patient treatment and by that increase efficiency, job satisfaction and the reputation of the engaged facility:
Quality development – The commissioned institutions must subscribe to quality development and safety standards. Existing models for both are applicable and can be deployed in meaningful ways. The should focus on developing a quality and safety culture and responsibility rather than being bureaucratic procedures.
Academic and Teaching standards -The educational efforts should be bound to academic centres – usually a university or medical school for the basic medical education, in case of the specialisation, this can also be an order, college or chamber of physicians, depending on national structure.
Tiered obligations – The commissioning may occur on different levels of educational depth, reaching from providing structured internships, to clinical courses, rotations or specialist education. Such different levels may have different levels of requirements and engagement.
Career development – Academic affiliation of the staff of the regional or district hospital with a guiding and supervising faculty might be advisable. (This may often be easy as many heads of departments or clinics come from an academic environment.)
The proposed measures are neither thought nor capable of producing net savings of health expenditure, but rather to increase efficiency, quality and safety of the health service and by that improving access to quality medical care for the involved communities.
Internship
Interns will be expected to work on preparing the following:
A frame concept for discussion going a bit deeper than the background provided to raise awareness for this idea and to stimulate input, including a work-plan and a resource estimation
A collection of as wide a range of examples as possible – especially from low and mid-level income countries that have included external clinical settings in their medical education, and also from high-income countries where clinical education outside the teaching hospital is currently regarded as unacceptable.
A literature scan of scientific evaluations. (This may be very limited as such developments usually exist as regulatory issues and most likely not have been sufficiently communicated in the scientific literature.)
A tool kit for policy development to implement such changes including a regulatory overview of systems and regulation strategies where such involvement exists.
How to apply?
There are two steps to applying.
Send a CV (maximum two pages), Motivation Letter (maximum one page) and a signed and stamped (by your NMO President) Candidature Form to "

[email protected]

". Subject of the message must be: "[WFME internship] Application – Last name, First name".
After having sent your documents, please fill out the following google form: https://forms.gle/1p2p2K1x1Znfm4bD7
Deadline: July 10th 2019, 23.59 GMT. 
Selection criteria
Demonstrable skills and attributes as outlined in the person specification 
Availability
Experience working in the field of medical education 
Experience in data collection
Experience working independently in projects requiring attention to detail
Kindly note that shortlisted applicants will be interviewed by the LME and the WFME President in mid-July.
For the WFME website, click here. For the WMA website, click here.
For all other questions, please e-mail Katerina Dima (Liaison Officer for Medical Education Issues) at: [email protected].